Free Brake Inspection:
Pulling, squeaking and grinding are signs that you need your brake system evaluated.
Get a brake service inspection if:
The brake pedal seems to be spongy or presses farther to the floor than usual
Your vehicle pulls to the right or left when you brake
Unusual noises or vibrations occur during braking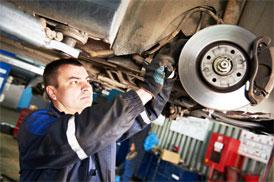 At TACENTRALAUTOS: We provide free brake inspection of the complete braking system and all its components in order to establish the cause of any problems. The aim is to provide the best possible advice to help you restore the condition and efficiency of your braking system to as near the manufacturer's original specification as possible.
Time Duration: 30-45min
We are also Provide
Car Servicing
Commercial Vehicle Servicing
MOT
Oil Filter Changes
Brake Servicing Replacement
Clutch Servicing Replacement
Air Conditioning Re-Gas
Tyre Fitting
Fault Diagnostics