General Vehicle Repairs :
TA Central Autos performs all general repairing and maintenance task for the customers starting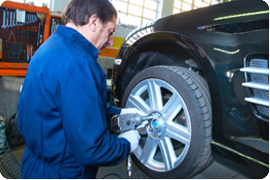 from Oil Changing, Cambelt Replacement, Cluth Replacement Mufflers and Exhaust, Brakes and Brake Repair, Wear-related Repairs, Steering and Suspension Repairs, Tyre Repairing and so on. By providing all these services we have made ourselves a one-stop solution of car servicing in Morden.

Moreover, our brake specialist in morden can also perform diagnostic testing and engine reconstruction of all makes and models. All electrical works including Audio Fitting, Satnav Integration and day time running lights installation can also be done by specialists in our centre. We do the best car servicing in Morden as well as we are also renowned as best cambelt replacement in Morden.
Health Checks :
It is important to carry out health checks before you drive away for a long trip. It makes your travel stress free, safe and more enjoyable. A well maintained vehicle will give you confidence of driving, more reliability and long lasting facility. Our centre offer a thorough health check up needed for your car while you wait. Moreover, you can also give your car to our Brake Specialist in Morden after a long drive to ensure all things are well and good in the car.

We can also take care of the factory suggested maintenance rules for servicing you car. To avoid any disappointment, please book in advance using our online booking system or simply give us a call for car servicing in Morden as well as South west London.